Chief Operating Officer, UC San Diego Health
Clinical Practice and Physician Group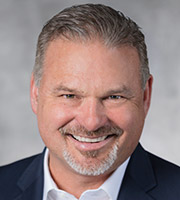 Brendan Kremer is the chief operating officer (COO) for UC San Diego Health. He is responsible for the clinical, financial and operational performance of the clinical service lines and the Physician Group. He works with leaders from experience, compliance, quality, strategy and finance to ensure that hospital and ambulatory operations are designed to meet the needs and requirements of patients, physicians, staff and the community.
In his time at UC San Diego Health, he has led the opening of the 250-bed Jacobs Medical Center, helped design and open the 100,000 square foot Koman Family Outpatient Pavilion, implemented a successful joint venture ambulatory surgery center strategy, and driven numerous operational and growth initiatives to fruition. He has also helped lead UC San Diego Health's response to the COVID-19 pandemic, which included increasing access to testing and opening the first vaccination superstation in California.
Mr. Kremer has worked with teams of physicians and staff in the development of access, quality, finance and service-oriented goals. He led the implementation of a new daily engagement system (DES), a tiered escalation huddle structure connecting frontline leaders and staff to the executive team. He also managed a successful expansion of outpatient access with the opening of new community-based clinics throughout San Diego county.
Since joining UC San Diego Health in 1999, he has held several roles, including chief administrative officer, administrative director, assistant director of professional services, and senior financial analyst. Prior, Mr. Kremer worked at several other major health care organizations, including Tenet HealthCare, Huntington Memorial Hospital and Children's Hospital Los Angeles.
Mr. Kremer holds a master of health service administration and bachelor of science in public administration from the University of Southern California. He is also a Grammy voting member for the National Academy of Recording Arts and Sciences. He lives in Encinitas with his wife, their twin daughters and two dogs.