Dean of Clinical Affairs, UC San Diego School of Medicine
CEO, UC San Diego Health Physician Group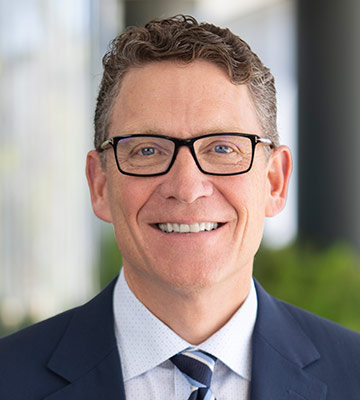 Christopher Kane, MD, serves as dean of clinical affairs for UC San Diego School of Medicine and chief executive officer for UC San Diego Health Physician Group. In these dual roles, Dr. Kane collaborates with UC San Diego leadership to ensure that UC San Diego Health Physician Group achieves the highest standards of service, access, quality, safety and patient satisfaction.
He also ensures that the group is integrated to support the unique and growing needs of an expanding academic health system and its growing regional network of providers.
Dr. Kane has authored more than 320 peer-reviewed articles and book chapters with a focus on prostate cancer risk factors and outcomes, prostate cancer surgery and minimally invasive surgery for prostate and kidney cancer. He serves on the editorial boards of several major urology journals as well as the National Comprehensive Cancer Network Prostate Cancer Management Guidelines Committee. He co-chaired the National Cancer Institute's Renal Cell Carcinoma Advisory Task Force from 2012–2016.
Prior to joining UC San Diego Health, Dr. Kane held leadership positions at UC San Francisco and the Naval Medical Center San Diego. He was awarded the Distinguished Engineering Alumni Medal by UC Davis in 2011. In 2014, he was elected to membership in the American Association of Genitourinary Surgeons. He is a retired Navy Captain and a decorated veteran of Desert Storm.
Dr. Kane completed his residency at the Naval Medical Center in Oakland, Calif. He received his medical degree from Uniformed Services University of the Health Sciences in Bethesda, Maryland. Dr. Kane is board certified in urology.