Crystal Cené, MD, MPH, FAHA
Chief Administrative Officer – Health Justice, Equity, Diversity and Inclusion
Associate Chief Medical Officer – Health Equity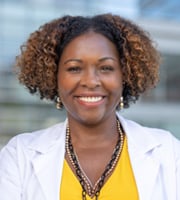 Crystal Cené, MD, is the chief administrative officer for health justice, equity, diversity and inclusion at UC San Diego Health. She also serves as the associate chief medical officer for health equity. In this dual, complementary role, she's focused on creating an equitable, diverse and inclusive environment for students, trainees, faculty, staff and patients.
Dr. Cené is responsible for the vision, leadership and strategic planning of UC San Diego Health's justice, equity, diversity and inclusion initiatives. She partners closely with leaders within the organization to ensure anti-racist, equitable, diverse and inclusive strategies, programs and policies are implemented across the health system. She brings extensive leadership, research, teaching and clinical experience to her position.
Prior to her current role, Dr. Cené was the system director for health equity and the director of the Program on Health Disparities at University of North Carolina (UNC) Health. She oversaw the health system's 5-year strategic plan for health equity and implemented a program to reduce COVID-19 vaccine disparities. She was also responsible for planning and program implementation related to health disparities research. During her time at UNC, she was also promoted from assistant to associate professor of medicine with tenure.
She is a nationally recognized health services and health disparities researcher. Her research focuses on evaluating and implementing solutions that enhance patient and family-centered care, focusing on the disparities in care by race and socioeconomic status. Dr. Cené has authored more than 70 peer-reviewed publications and has mentored over a dozen students, trainees, and junior faculty. She has held leadership roles in national and international organizations throughout her career, including the American Heart Association, the Society of General Internal Medicine, and the Women's Health Initiative.
Dr. Cené is a practicing general internal medicine physician. She completed her medical residency at Yale University and earned her medical degree at East Carolina University. She completed a three year clinical research fellowship and received her Master in Public Health from John Hopkins University.