Chief Strategy Officer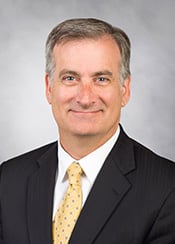 As chief strategy officer, Douglas Cates leads the development of UC San Diego Health's strategic initiatives, including clinical strategy and increasing our geographic footprint and network. In addition, he oversees our growing collaboration with UC Irvine and UC Riverside. Mr. Cates is also responsible for developing in-depth market insight and comprehensive business plans that will keep UC San Diego Health at the forefront of health care delivery and strongly linked to community and patient needs.
He works with the dean, senior leadership for the School of Medicine, and the University of California Office of The President (UCOP), to ensure that our research, academic and clinical strategic plans are functionally integrated and coordinated with the UC system. View the current UC San Diego Health Strategic Framework at health.ucsd.edu/about-us/strategy
Mr. Cates brings to his position more than 20 years of experience in market research and business development. His expertise includes combining market and data analytics best practices with disciplined service development processes, helping health care providers grow and develop their services as well as drive better business decisions overall. Most recently, Mr. Cates served as senior director of strategy for the Cleveland Clinic. Prior to that, he held various business development and market strategy positions for Cleveland Clinic and Procter & Gamble Pharmaceuticals.
He was a postdoctoral scholar in physical chemistry at UC Berkeley and holds a PhD in physical chemistry from Duke University, along with a BS in chemistry and computer science from Baylor University.