Ellington Jones, DPH, MHA, MBA
Chief Administrative Officer – Surgical Specialties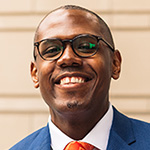 Ellington Jones currently serves as the chief administrative officer overseeing orthopaedics, urology, otolaryngology, obstetrics-gynecology, reproductive science, and surgical specialties across U.C. San Diego Health. He is responsible for the day-to-day ambulatory and inpatient operations of these areas and is the dyad partner with the department chairs and physician leaders on executing the strategic priorities of the system's surgical areas.
Before joining U.C. San Diego Health, he was the executive director of the digestive diseases service line at UChicago Medicine. He oversaw the strategy and ambulatory operations of 15 clinical programs across the system. Before his time in Chicago, he worked for Tenet Healthcare and held several leadership positions overseeing initiatives across 65 hospitals.
He has received numerous leadership awards throughout his career, including the University of Florida's 40 Gators Under 40, the University of Florida Outstanding Young Alumni Award, and the Outstanding Young Alumnus at the University of Florida College of Public Health, Department of Health Services Research and Policy. He was also a finalist at ACHE's Richard J. Stull Graduate Essay Competition in Healthcare Management.
Mr. Jones holds a Bachelor of Science in Health Care Management from Florida A&M University, a Master of Health Administration from the University of Florida, a Doctor of Public Health in Leadership from the University of Illinois at Chicago, and an Executive MBA from the Quantic School of Business and Technology. He also serves as an adjunct faculty member in the School of Professional and Extended Studies at American University in Washington, D.C. and teaches in the Healthcare Management graduate program.
He is a fellow in the American College of Healthcare Executives and is a member of the National Association of Health Services Executives. Mr. Jones is a life member of the University of Florida Alumni Association and is also a life member of the Florida A&M Marching 100 Band Alumni Association. He enjoys spending time with his two nephews, family and friends. He is an avid University of Florida sports fan and enjoys cheering on the Gators.