Chief Information Officer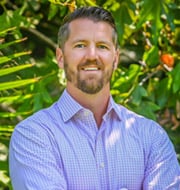 Joshua Glandorf is the chief information officer (CIO) at UC San Diego Health. In this role, he oversees all operations and strategic planning for information and communications technology. He is responsible for planning and developing all administrative and clinical information systems related to operating UC San Diego Health hospital and clinical facilities, including electronic health records and the MyUCSDChart system.
Mr. Glandorf also leads the creation and execution of a comprehensive information strategy to meet UC San Diego Health's future needs and create standards, architectures, and policies for information technologies across UC San Diego and the UC System.
As an accomplished healthcare information technology professional with over 20 years of experience, Mr. Glandorf is passionate about using information technology to improve the patient and provider experience. Before his current role, Mr. Glandorf was the senior director of Information Services Affiliations and Analytics at UC San Diego Health.
Prior to joining UC San Diego Health, he was the director of Analytics at Stanford Children's Health, where he managed the strategic planning, operations and implementation of new information technology across their health system.
In 2017, Mr. Glandorf received the University of California Office of the President Sautter Award for his work in innovatively developing new technology to help support the University's mission.
Mr. Glandorf holds a Bachelor of Science in industrial engineering from the University of Iowa. He also holds an Executive Program Management certificate from the UC Berkeley Haas School of Business.