Chief Financial Officer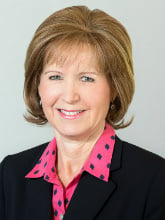 Lori R. Donaldson is the chief financial officer (CFO) at UC San Diego Health. In this role, she oversees a budget of more than $3 billion. She is responsible for the development and implementation of the financial strategies, operating and capital budgets, and system of financial reporting and controls that support the overall mission, goals and objectives of UC San Diego Health. She is actively involved in planning and executing strategic partnerships and oversees financial planning and funding strategies in support of UC San Diego Health's largest capital projects, including the redevelopment of the Hillcrest campus.
She is actively involved in the University of California's Leveraging Scale for Value initiative to encourage collaboration among the UC health centers and increase efficiency and operational excellence. Under her guidance, UC San Diego Health has consistently reported margins in excess of industry averages.
Throughout her career, Becker's Hospital Review has consistently acknowledged Ms. Donaldson for driving financial success at UC San Diego Health. She has been recognized on the following lists: Hospital CFOs to Know, 100 Academic CFOS to Know, 20+ Women CFOS to Know and Women Leaders of Hospitals and Health Systems. In 2015, she was named the Business Nonprofit CFO of the Year by the San Diego Business Journal.
She joined UC San Diego Health in 1990 and served as its controller for 13 years prior to her appointment as CFO in July 2010. She has extensive experience in all aspects of financial management, including financial accounting, revenue cycle and budget operations, business planning, external financing, capital planning and long-term financial forecasting in both for-profit and nonprofit organizations. Since 2014, she has brought her expertise to the classroom as an instructor for the UC San Diego Master of Advanced Studies in Leadership of Healthcare Organizations program. Prior to joining UC San Diego Health, she was an assistant vice president of financial planning and analysis for a large financial institution.
As a current board member for the Bannister Family House and active supporter of the La Jolla Family House, she brings her dedication to health care to the community. She is passionate about the roles that both Bannister Family House and the La Jolla Family House play in supporting UC San Diego Health's patients and their families. She is a member of the Healthcare Financial Management Association and San Diego State University Alumni Association. Ms. Donaldson received her bachelor of science in business administration/accounting from San Diego State University.
Outside of work, she enjoys spending time with her friends and family, along with cooking and boating.