Nick Macchione, MS, MPH, FACHE
Chief Health Officer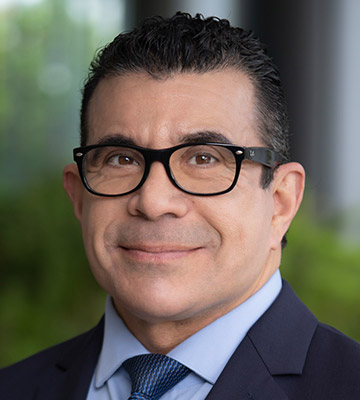 Nick Macchione is chief health officer, overseeing strategic partnerships that expand UC San Diego Health's geographical footprint to ensure the broader community has access to our world-class care and leading-edge therapies.
Mr. Macchione facilitates public and private resources to fund the redevelopment of our Hillcrest medical campus, bolsters relationships with health care systems, federally qualified health centers, supportive service providers and payors. He leads public and community health initiatives focused on managed care, behavioral health and cross-border health needs. As a UC San Diego Health executive team member, he closely collaborates with the UC San Diego Chancellor's Office, providing leadership and support for university initiatives, regional funding, grant opportunities, and partnerships.
He has over 35 years of clinical and executive experience leading complex health and human service delivery systems in the New York City metropolitan area and the County of San Diego. Before joining UC San Diego Health, Mr. Macchione served as the director (2008-2023) and deputy director (1998-2008) of the County of San Diego's Health and Human Services Agency (HHSA). At HHSA, Mr. Macchione led the nation's largest integrated county health and human services network supporting 1.3 million San Diegans. He successfully implemented HHSA's most expansive growth for behavioral health services.
In the community, Mr. Macchione developed San Diego County's comprehensive population health strategy, Live Well San Diego (LWSD). LWSD has received many national, state and local awards for its broad-scale impact on improving health equity and social well-being. In 2020, Mr. Macchione played a key role in establishing widespread public testing and vaccination efforts throughout the San Diego region. He developed San Diego County's T3 strategy (Test, Trace and Treat), which was vital in establishing widespread public testing, disease investigation and vaccination efforts throughout the region. In partnership with UC San Diego Health, this led to the creation of the first vaccination superstation in the county and the state.
In recognition of his professional accomplishments, Mr. Macchione has received significant honors. He was named the 2016 Public Official of the Year by Governing Magazine and was awarded the Baldrige Foundation's 2018 Harry Hertz Leadership Award. In addition, Mr. Macchione led HHSA's Malcom Baldrige journey for quality and operational excellence, resulting in the 2017 Silver level California Awards for Performance Excellence and the County's Edgemoor Hospital 2017 Gold level for Excellence in Quality award.
He holds master's degrees from Columbia University and New York University, specializing in health care leadership, strategic management and health policy, and a professional health care executive training certification from Harvard University. Mr. Macchione is board certified in health care management and is a fellow with the American College of Healthcare Executives. He is also a fellow with the American Hospital Association and a Public Health Scholar with the federal Centers for Disease Control and Prevention.
For the past 26 years, Mr. Macchione has been an instructor and faculty member at San Diego State University's School of Public Health. He holds the endowed position of John Hanlon Executive Scholar, where he teaches and mentors graduate students specializing in health services management and policy.