Chief Medical Officer of Population Health Services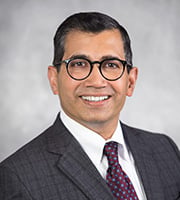 Parag Agnihotri, MD, is the chief medical officer of Population Health Services at UC San Diego Health. He oversees the Physician Network, a clinically integrated network made up of UC San Diego Health faculty, regional hospitals, community primary care providers and specialists.
His role focuses on reforming health care by working with multidisciplinary teams to build and implement tools that improve the health of the population. As a practicing physician in the Division of Geriatrics, Dr. Agnihotri leads the post-acute care strategy for UC San Diego Health and he plays a key role in supporting teams that serve the elderly patient population.
Dr. Agnihotri is a California Health Care Foundation fellow. He has been designated as an Innovation Advisor by the Center for Medicare and Medicaid Innovation. In 2019 he received the Multi-Community Innovative Leadership Award from the Right Care Initiative, which recognizes healthcare leaders and innovators across California.
He has published several articles on the management and outcomes of high-risk populations. Dr. Agnihotri is recognized as a national leader in the development of high-performing health systems, technology use, and population health management. He serves on the board of California Long Term Care and Be There San Diego and is an active member of the steering committee for the California Quality Collaborative.
Dr. Agnihotri completed his residency at the University of Illinois in Chicago. He is board certified in internal medicine and geriatric medicine.