Ron Skillens, CPA, CHC, CHPC
Chief Compliance and Privacy Officer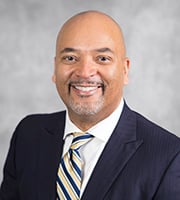 Ron Skillens is the chief compliance and privacy officer for UC San Diego Health. He is responsible for the mitigation of compliance and regulatory risks, pursuing leading practices and ensuring that all Health compliance and privacy activities are coordinated with the appropriate leaders.
In addition, Mr. Skillens, provides health care research compliance support for UC San Diego Health Sciences and is responsible for administering the health system's policy and procedure process.
He has more than 29 years of compliance, audit and risk management experience working with diverse senior leadership, physicians and boards, bringing to this position a demonstrated commitment to compliance and collaboration. Most recently, he served as the senior vice president for Enterprise Risk Management and chief compliance officer at JPS Health Network in Ft. Worth, Texas. Previously, he served as the vice president for Compliance and Internal Audit at Children's Health System of Texas. He has advised executives and boards on compliance and risk matters in several executive and management consulting roles at global organizations.
Mr. Skillens earned a Master of Science and a Bachelor of Science in accounting from the University of North Texas. He is a licensed CPA and is certified in healthcare compliance (CHC) and healthcare privacy compliance (CHPC), and has served on two nonprofit advisory boards.