Chief Administrative Officer
Facilities, Capital Management, Retail, Hospitality, Hospital and Offsite Services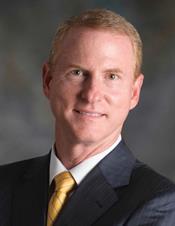 Whit Robinson serves as chief administrative officer – facilities, capital management, retail, hospitality, hospital and offsite services across all UC San Diego Health locations.
In this role, he oversees facilities engineering, facilities planning, capital projects management, environmental services, environmental health and safety, security services, emergency management, telecommunications, environmental sustainability, campus retail, Bannister House, La Jolla Family House and food and nutritional services. He is instrumental in refining operations at the La Jolla campus and satellite locations, and planning for the future of all campus growth, including offsite locations.
Mr. Robinson brings more than 30 years of experience in facilities, planning, design and construction; including 21 years in the Navy's Civil Engineer Corps and Seabees. He holds undergraduate degrees in interior design and architecture, as well as a master's degree in urban and regional planning from University of Florida. He also is licensed in architecture and interior design in Florida.
Most recently, he served as executive director for facilities planning, design and construction at MD Anderson Cancer Center in Houston. Locally, he was responsible for the planning, design and construction of the Camp Pendleton Navy Hospital in Oceanside.
Mr. Robinson and his wife Kathie experienced the world-class care provided by UC San Diego Health when their twins were born prematurely at our Hillcrest NICU. They were impressed by the care team's commitment and love for their patients and families and are excited to be involved in advancing the UC San Diego Health mission.