If you have prostate cancer, it is important that you receive the highest quality care.
Nationally Ranked Cancer Care
Trust us to accurately diagnose and effectively treat your prostate cancer. We are repeatedly ranked among the nation's best in both cancer care and urology by U.S. News & World Report. We are also the region's only federally recognized Comprehensive Cancer Center. Studies show that patient outcomes are better at these special places.
All this means you receive truly personalized care, with a team of medical specialists who can help you weigh the benefits of different treatment approaches.
Prostate Cancer Diagnosis and Staging
If your symptoms or screening test results suggest you might have prostate cancer, you'll need a medical test called a biopsy. During a biopsy, a sample of your prostate cells is examined under a microscope.
UC San Diego Health is the first health system in San Diego to perform a transperineal biopsy (instead of the standard transrectal biopsy) to reduce your risk of infection. The procedure is combined with 3D MRI fusion-guided imaging to help your care team find abnormal cells that might otherwise be missed.
If cancer is found, our pathologists — all specially trained in and focused on urologic cancers — will examine cancer cells under the microscope to help evaluate your cancer's aggressiveness. Your doctors will also evaluate the size and location of the tumor and whether it has spread.
If appropriate, precision medicine specialists may look at the DNA and molecular characteristics of your tumor to further tailor treatment to your unique cancer.
Comprehensive, Personalized Treatments for Prostate Cancer
Receive a care plan personalized to your cancer diagnosis, health status and quality of life preferences. In most cases, your plan will include one or a combination of the following approaches. If you have advanced or aggressive prostate cancer, you may be referred to our Prostate Cancer Clinic for more treatment options.
Treatment for Advanced Prostate Cancer
Watchful Waiting / Active Surveillance
If your cancer is slow-growing and unlikely to spread, your cancer may be closely monitored but not treated. Talk to your doctor about whether watchful waiting, also known as active surveillance, is a good option for you.
Focal Therapy
Focal therapy uses a precisely delivered energy source to destroy cancer cells. Healthy prostate tissue is left intact, reducing the side effects you may experience with other prostate cancer treatments.
Focal therapy is a minimally invasive alternative to treatments that affect the whole prostate. It may be an option for men with low- or intermediate-risk cancer contained within the prostate gland. It may also be used for recurrence following radiation.
The focal therapy approaches we currently offer include:
NanoKnife – which uses electrical currents to kill cancer cells
High-Intensity Focused Ultrasound (HIFU) – which uses bursts of high-intensity, high-frequency sound waves to kill cancer cells
Cryotherapy – which destroys cancer cells by rapidly freezing them.
We are the only health system in San Diego offering Nanoknife and HIFU. UC San Diego Health was also the first in the region to offer cryotherapy. Our physicians continue to refine and expand focal therapy techniques to give you as many treatment options as possible.
Prostate Cancer Surgery
Surgery to treat prostate cancer usually involves the removal of the prostate gland and nearby lymph nodes. This is called a prostatectomy. UC San Diego Health surgeons pioneered robotically assisted minimally invasive techniques that can reduce blood loss, reduce pain and speed recovery. Patients often travel from other areas to UC San Diego Health for prostate surgery, because of our expertise in these highly effective surgeries.
Radiation Therapy
Radiation therapy destroys cancer cells with high-energy beams or particles. There are different types of radiation therapy that doctors may recommend for your prostate cancer, including intensity-modulated radiation therapy, low-dose-rate brachytherapy and proton therapy. Your radiation oncologist will recommend the best approach to precisely target your cancer cells while protecting healthy tissue. Surgery and radiation therapy are often used together to treat prostate cancer.
Urologic Cancer Doctors & Surgeons
At UC San Diego Health, your cancer care is led by a multidisciplinary team of doctors who specialize in your type of cancer.  Highly specialized multidisciplinary care is a hallmark of top-tier academic medical centers such as UC San Diego Health. For patients like you, it means you receive the highest level of care. Find a urologic cancer specialist.
World-class care. Here for you.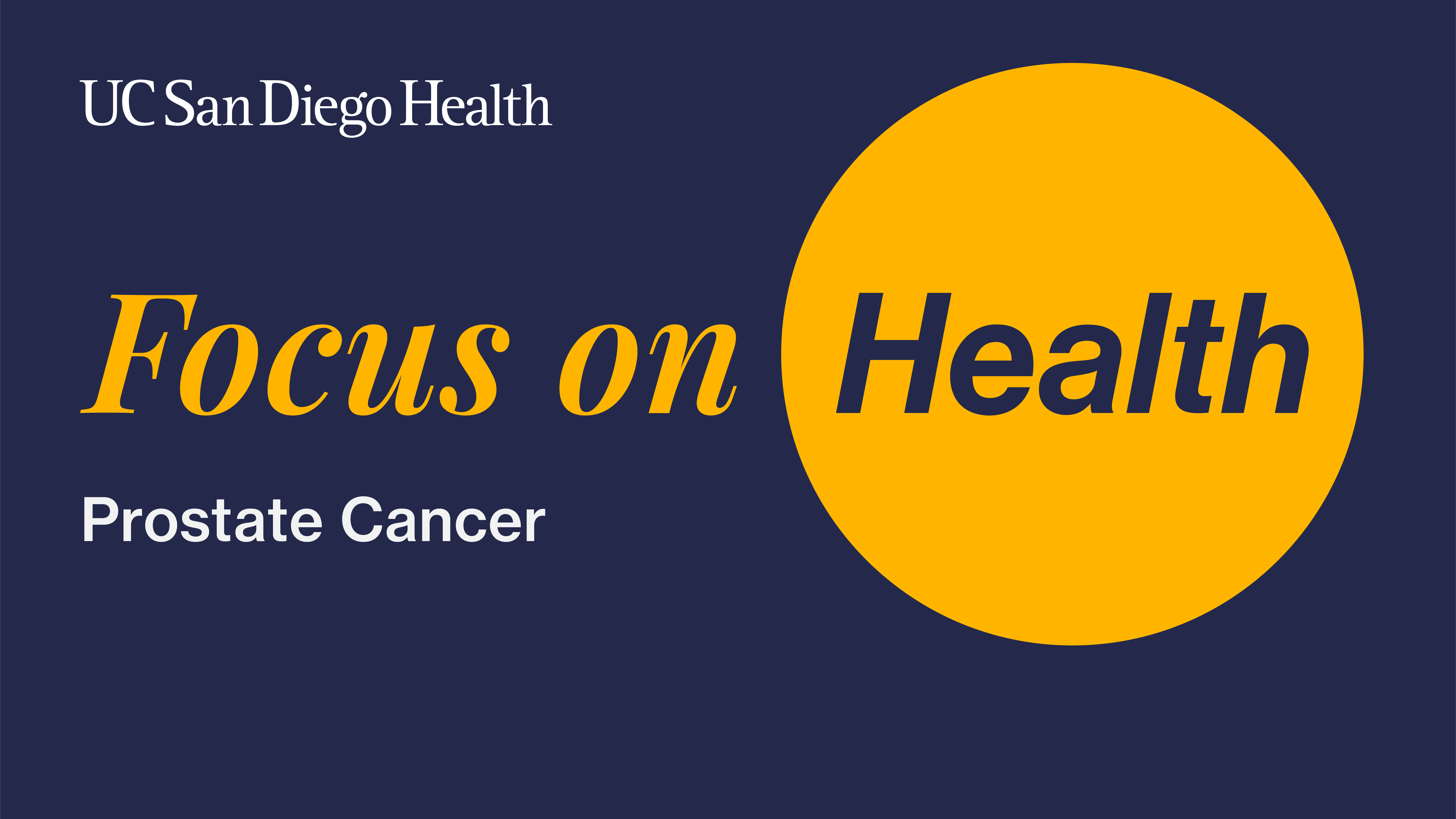 World-class care. Here for you.
Clinical Trials
Advancing Cancer Care and Prevention
UC San Diego Health physicians are actively researching ways to improve cancer care. By joining a clinical trial, you may receive a new cancer treatment before it is available to the public. If your cancer has not responded to standard therapies, talk to your doctor about whether a clinical trial could be right for you.
Family History
Learn about your family's risk
Five percent to 10 percent of all cancers occur in people who have a family member with the same cancer. Knowing your family history is the first step toward personalized screenings and prevention. If you think you may be at higher risk, see the Family Cancer Genetics Program for more information.
Patient & Family Support Services
At UC San Diego Health, your care goes beyond treating disease. It also includes supporting you and your loved ones emotionally throughout your cancer journey. Most of our support services are free.
Browse All Support Services