Geriatric Emergency Services
Emergency rooms can be confusing and disorienting for older adults. That's why our geriatric ERs offer specialized care with expert teams to better serve the specific needs of seniors.
From admission to discharge and beyond, our goal is to deliver efficient and dignified care to help reduce hospital visits and readmissions.
UC San Diego Health is the first health system in San Diego County to have fully accredited geriatric emergency departments at both its hospitals. It's part of our effort to provide a superior quality of emergency care for patients ages 65 and up.
Nationally Recognized Care
The La Jolla ER is home to California's first accredited geriatric emergency department. The American College of Emergency Physicians designated the Gary and Mary West Emergency Department as a Level 1 Gold accreditation — the highest and most comprehensive level.
Our Hillcrest ER received a Level 2 Silver accreditation.
Among the Top in Nation
Depend on us for exceptional care. Our senior medicine program is ranked among the nation's top 20 programs for geriatric care by U.S. News & World Report, which also ranks us as the #1 health system in San Diego. As the region's only academic health system, we apply the latest advancements in research, education and clinical medicine to our care for you.
Geriatric ER Care Team and Expertise
All older adults who arrive here are treated by a team with special training in geriatric medicine, including physicians, nurses, physical therapists, pharmacists and social workers. We have expertise in treating issues such as fall risks, mobility challenges, cognitive and memory problems, and medication interactions.
If you need follow-up care, our experts will call in specialty care or refer you to a specialty care clinic. We work in tandem to offer you and your family a nurturing and safe environment.
Our team also tries to lower hospital admissions and readmissions for seniors. When you arrive, our emergency providers go beyond treating the immediate complaint. You can get screened for additional issues, and we take the time to work with you and your caregivers to ensure a smooth transition from the ER to hospital admission or discharge to home.
Those who do need additional treatment may qualify for our Acute Care at Home (ACH) program, which enables you to get medical care at home instead of hospitalization. Your care team will help you decide what's right for you.
Inside Our Senior Emergency Care Unit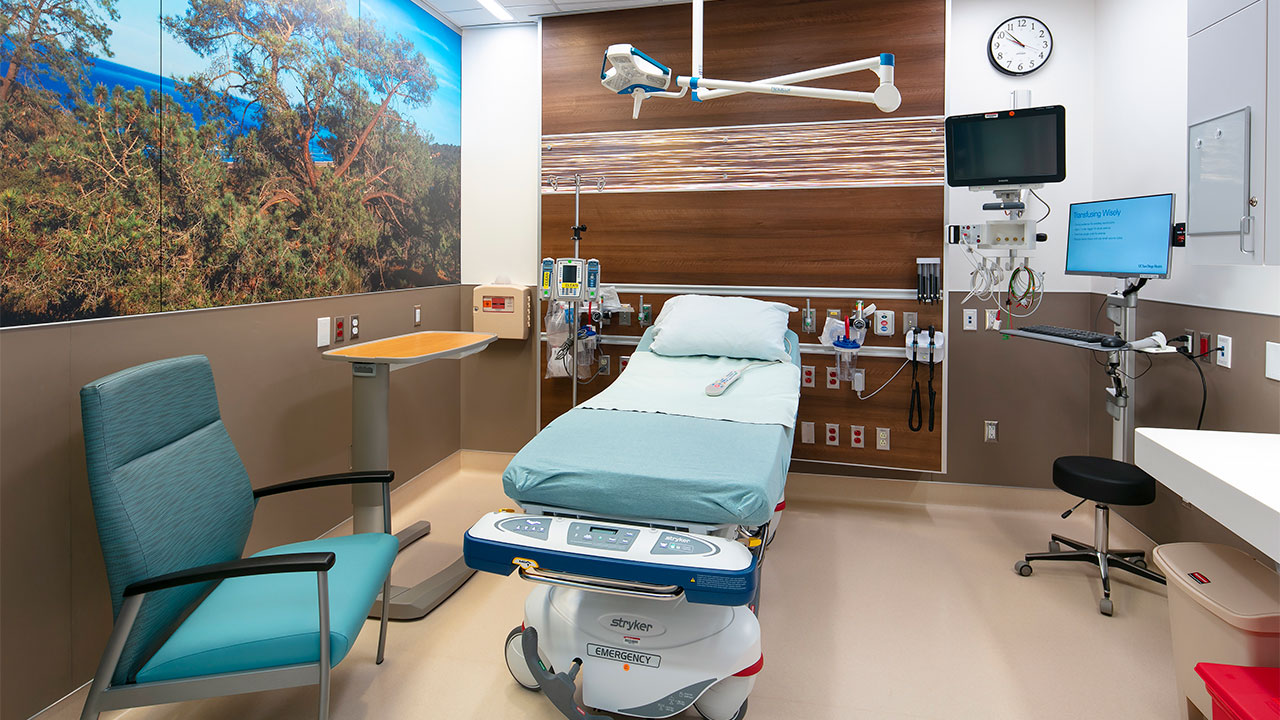 See California's First Geriatric ER in La Jolla
Special Features Tailored for Seniors
Our specially designed, state-of-the-art geriatric emergency unit is in a separate space in our La Jolla ER. It has exam rooms and observation bays that are designed to provide improved acoustics, safety and comfort for you. The features include:
Nursing station visible from all patient rooms
Patient toilets situated adjacent to staff work areas to better monitor patient use and needs
Brighter lights as well as large, clear signage and artwork to make it easy to find the way around
Variable room lighting and window treatments that orient patients to the actual time of day
Color-contrasting walls, floors and furniture to lessen visual confusion and lower fall risk
Nonslip flooring to protect against falls
Sound-absorbing walls to minimize ambient noise
Quieter alarms, pagers and other equipment to keep noise levels low and minimize potential anxiety in patients
Hearing-aid, visual-assist and mobility devices
Thick mattresses to enhance comfort and reduce pressure and friction on the body
Recliners to help patients change position, as needed, and improve mobility
Private lounge for loved ones and caregivers to relax
Hillcrest and La Jolla Emergency Locations are Open 24 Hours
Emergency Medicine Specialists