Chief Executive Officer, UC San Diego Health
Download Full Bio | Download Brief Bio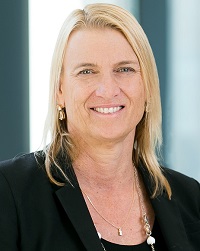 Patty Maysent is chief executive officer of UC San Diego Health, the region's only academic health system, comprising UC San Diego Medical Center, Jacobs Medical Center, Sulpizio Cardiovascular Center, Moores Cancer Center, Shiley Eye Institute, Koman Family Outpatient Pavilion, and more than 30 primary and specialty clinics throughout Southern California. She oversees $3.6 billion in annual operating revenues and leads more than 14,000 team members, who deliver world-class care to more than 1 million patients annually.
Maysent's commitment to providing the highest quality health care throughout our region has resulted in UC San Diego Health being named #1 in San Diego and #5 in California by U.S. News & World Report. UC San Diego Health was named one of the top 10 academic medical centers for patient care by Vizient, Inc. and maintains Magnet status from the American Nurses Credentialing Center for nursing excellence. The Joint Commission and the Centers for Medicare and Medicaid also bestowed recognition for providing high-quality hospital care. And the Leapfrog Group gave an "A" rating to both the La Jolla and Hillcrest hospitals for safety and quality of care, and citied the Hillcrest facility as a top teaching hospital.
Maysent's efforts seek to enhance the lives of patients and residents throughout Southern California. She believes everyone deserves the superior care provided by an academic medical center. In 2021, UC San Diego Health provided $599 million in community benefits, including uncompensated and government-sponsored care, charity care and other health services. Foundational work to improve patient care earned UC San Diego Health a perfect score on the Healthcare Equality Index, awarded by the nation's largest LGBTQ civil rights organization. And Maysent continues to work closely with the San Diego County Board of Supervisors and regional health systems to design a solution for inpatient psychiatric care in the community.
Her leadership has also helped San Diego County prepare for the next public health crisis. She set the bar high for healthcare leaders during the COVID-19 pandemic, which included UC San Diego Health doctors, nurses and staff caring for some of the first patients in the United States diagnosed with COVID-19. UC San Diego Health was a partner, along with thousands of local residents, in three of the four biggest COVID-19 vaccine trials in the nation. And when vaccines were approved, UC San Diego Health, in collaboration with the County of San Diego, City of San Diego and San Diego Padres, opened the state's first vaccination superstation, dispensing more than 225,000 doses at the Petco Park site in just 68 days — and more than 550,000 overall in less than six months.
Under her guidance, UC San Diego Health has grown significantly with the opening of Jacobs Medical Center and the Koman Family Outpatient Pavilion, both on the La Jolla Medical Campus. Growth and expansion continue with a multi-phase, multi-billion dollar long-range development plan to reimagine the 62-acre UC San Diego Medical Center in Hillcrest. Under construction and scheduled to open in 2025, Phase I includes a state-of-the-art 250,000-square foot outpatient pavilion that will house specialty clinical programs, ambulatory surgery operating rooms, gastroenterology procedure rooms, advanced imaging, and infusion and radiation oncology. The reinvestment expands UC San Diego Health's legacy of caring for our diverse communities in the heart of San Diego and beyond.
Maysent serves on the board and executive committee of the California Hospital Association. In addition, she is passionate about her years of work with the Boys and Girls Club of San Dieguito, where she has also served on the board and executive committee.

Previously, Maysent served as chief of staff and chief strategy officer at UC San Diego Health. She was CEO of St. Jude Medical Center and served as a consultant for The St. Joseph Health System, University of Southern California's Keck Medical Center and Norris Cancer Center, and Alliance Healthcare Services.
She holds a master's degree in business administration and a master's degree in public health, both from UCLA, and received a bachelor's degree in human biology from Stanford University.