Giving Birth: Delivery Choices to Fit Your Family
With two distinct birth settings and a large staff of physicians, midwives and high-risk specialists, UC San Diego Health offers more childbirth options than anywhere else in San Diego.
Labor & Delivery or Birth Center Rooms
Our maternity suites are spacious, with room for the entire family to welcome your new arrival. Families can choose a traditional Labor & Delivery environment at both of our locations or the holistic Birth Center at Jacobs Medical Center. Our Birth Center rooms offer a birth experience with minimal medical intervention, attended by certified nurse-midwives in a hospital setting.
Virtual Maternity Tours
Meet our doctors and midwives at our monthly online event. Register now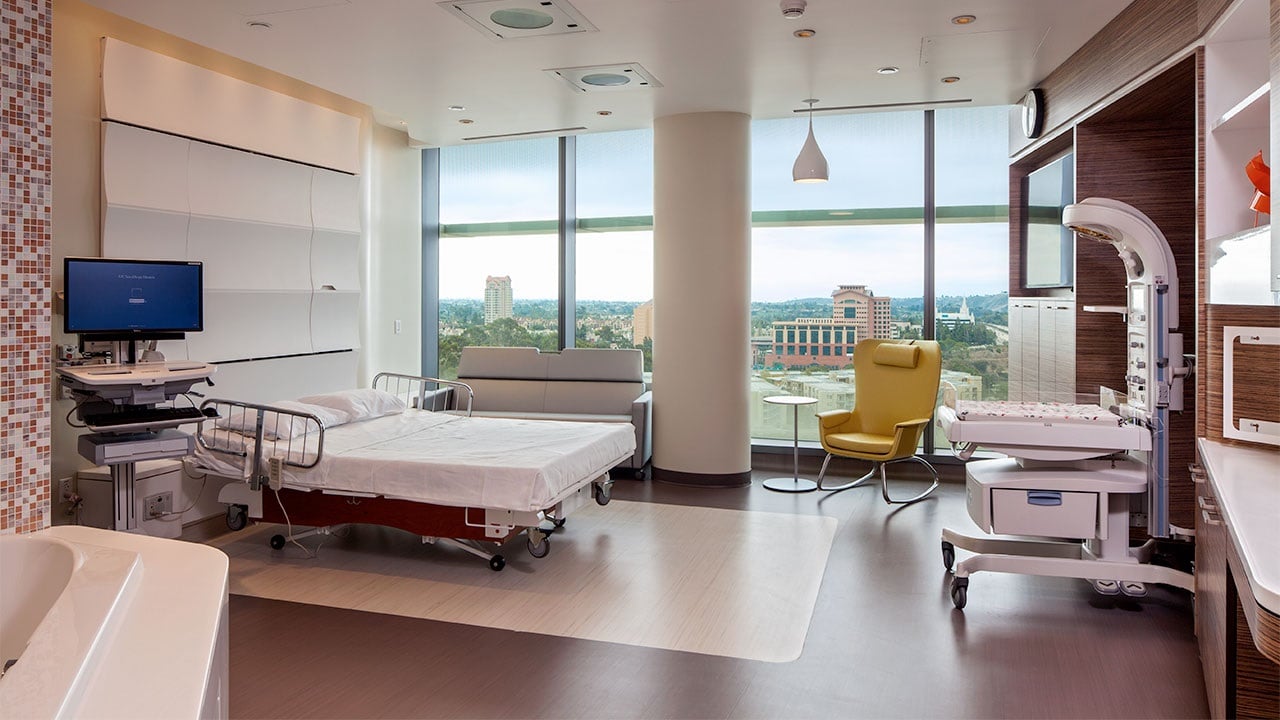 Virtual Maternity Tour of Jacobs Medical Center
Jacobs Medical Center provides patients with access to the latest in advanced technology for pregnancy care and childbirth, including 52 private NICU rooms.
Contact Us at 858-657-8745
Deliver in La Jolla or Hillcrest
Jacobs Medical Center in La Jolla
Care for every kind of birth in a beautiful family-friendly setting
Eight private Labor & Delivery rooms, three rooms for C-section deliveries, and three midwifery-staffed Birth Center rooms
32 private postpartum rooms, each with a foldout bed for family members, and a play room for children visiting new siblings
A Level III Neonatal Intensive Care Unit (NICU) for babies with critical and more complex medical needs
La Jolla: 858-657-8745
UC San Diego Medical Center in Hillcrest
High-quality maternity care choice
Level II Intermediate NICU for babies who need short-term intensive care after birth
Convenient location for families living in central San Diego or the South Bay
Women who receive prenatal care from the Hillcrest maternity team of obstetricians and certified nurse-midwives may deliver with a maternity team member
Hillcrest: 619-543-7878
Virtual Tour of UC San Diego Medical Center in Hillcrest
UC San Diego Medical Center in Hillcrest offers comfortable, private Labor & Delivery rooms and birthing options to fit your needs.
Contact Hillcrest at 619-543-7878