At UC San Diego Health, we understand that you want pregnancy and childbirth care to fit your own needs. That's why we offer midwife services.
Midwives provide personal, one-on-one attention to guide you through the birth experience. Our certified nurse-midwives (CNMs) are advanced nurse practitioners who specialize in pregnancy, birth and postpartum care for healthy, low-risk patients and their infants.
They practice at clinics throughout San Diego, with an emphasis on education and involving patients in their own care.
Nurse-midwives attend births in our holistic Birth Center rooms or in a traditional Labor & Delivery environment — the choice is up to you.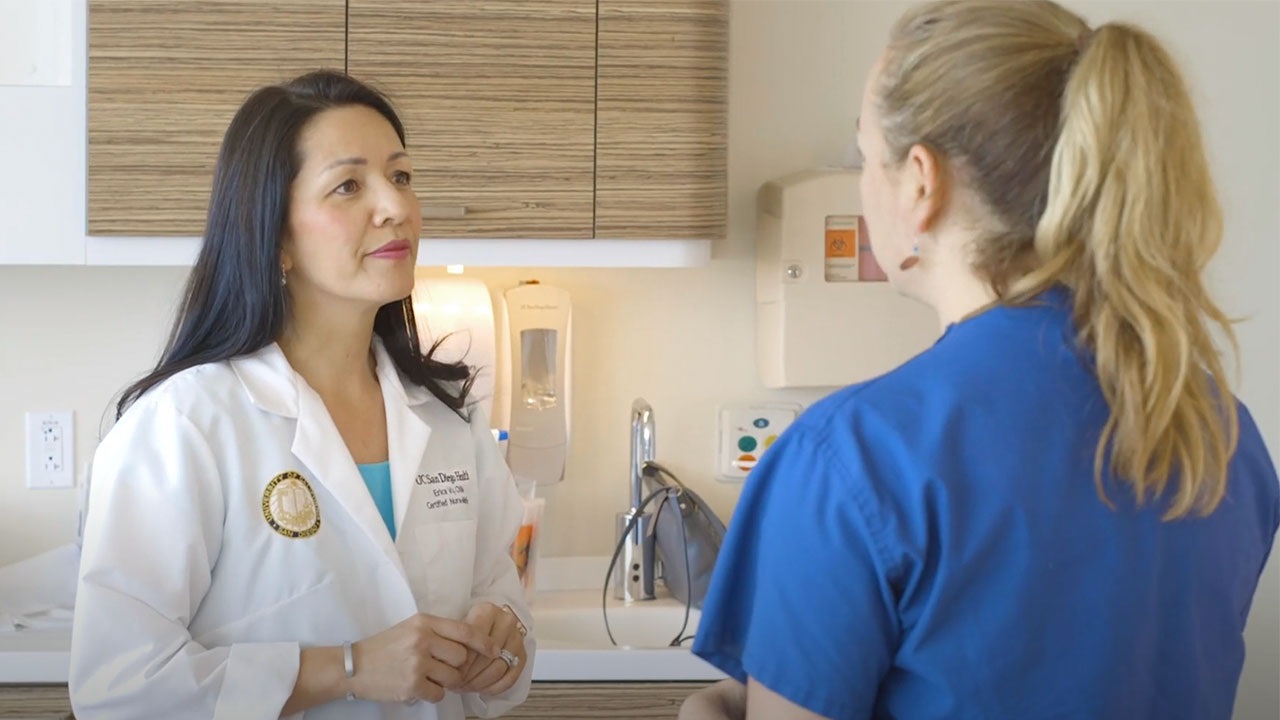 Personalized Midwife Care at UC San Diego Health
Meet Erica Vu Hill, certified nurse-midwife, who talks about personalized midwife services at UC San Diego Health.
Meet the Maternity Team
Event information and registration
Meet physicians and midwives and ask questions about prenatal care and delivery options at UC San Diego Health.
Respecting Your Birth Choices
If you choose to receive prenatal care from a midwife, you can deliver your baby at:
Our La Jolla or Hillcrest hospital in a traditional Labor & Delivery environment with an epidural, if desired
Our hospital Birth Center at Jacobs Medical Center, which offers a childbirth experience with minimal medical intervention
Support for VBAC
If you are trying for a vaginal birth after Cesarean delivery, we can support you. Read More About Our VBAC Program.
Insurance Coverage for Midwife Services
If you are switching your care to UC San Diego Health, you may need to select a primary care provider at UC San Diego Health. Then you can self-refer for obstetrical and gynecological services.
You do not need to see your PCP first, as this can delay your prenatal care. Your midwife's name does not need to be listed on the insurance plan's list of covered providers.
Our midwives bill under the department's name. We can help you get internal authorization for insurance purposes.
There is no difference in charge or reimbursement if you deliver in our Birth Center or in Labor & Delivery. Our Birth Center is physically located in our hospital and is not a free-standing birthing center. Your insurance company will be billed for a "hospital admission."Accepted Health Plans
Locations
Prenatal appointments with a certified nurse-midwife are available at these locations: