If you have been diagnosed with an irregular heartbeat (arrhythmia) or suspect you have a problem with one, we're here to help you.
UC San Diego Health's renowned electrophysiology program is dedicated to diagnosing, preventing and treating all types of cardiac arrhythmia, including atrial fibrillation (AFib).
Under the leadership of Gregory Feld, MD, our board-certified electrophysiologists perform one of the largest volumes of device implantations, ablations and laser lead extractions in the nation. We offer advanced remote monitoring for devices and are experts in using minimally invasive surgical techniques.
Why Choose Us?
Our physicians have developed atrial fibrillation and flutter treatments used throughout the world.
We perform large numbers of pacemaker and ICD implantation procedures, in most cases with minimally invasive techniques and no or limited hospital stay.
Our three electrophysiology labs at La Jolla and Hillcrest — the most advanced in the region — focus on diagnosing and treating abnormal heartbeats.
We perform more pacemaker and ICD lead extractions than any other medical center in the region.
Do You Have an Irregular Heartbeat?
Cardiac arrhythmias are disruptions in the rate or rhythm of the heart's electrical system, which controls how the heart contracts and pumps blood. Most arrhythmias are harmless, but others can be serious or life-threatening.
Conditions we diagnose and manage include:
Treatment Options
Depending on the cause and severity, arrhythmias may be treated with medications, devices or surgery. We are experts in minimally invasive surgical techniques.
Medications
Blood thinners such as Coumadin (warfarin) or the non-vitamin K antagonist oral anticoagulants (such as Xarelto, Eliquis, Pradaxa, or Savaysa) are usually the first treatments used to minimize the risk for stroke.
Our physicians and pharmacists provide anticoagulation services to help your monitor and manage your treatment with warfarin or other anticoagulants.
Innovative Facilities
Electrophysiology Suites
Our electrophysiology (EP) laboratories at the Sulpizio Cardiovascular Center in La Jolla and UC San Diego Medical Center in Hillcrest diagnose and treat arrhythmias. Procedures that do not require surgery — including diagnostic electrophysiology studies, catheter ablations (both endocardial and epicardial catheter ablation), pacemaker and defibrillator implantation — are performed in these EP labs.
Hybrid Operating Room
Sulpizio Cardiovascular Center's operating room includes the latest imaging technology, cardiac electrophysiology mapping and ablation equipment, and all the equipment needed for open-heart surgery.
This allows two physicians — a cardiac electrophysiologist and a cardiothoracic surgeon — to operate together when appropriate, enhancing patient safety during these procedures (such as during concomitant epicardial and endocardial ablation and laser lead extractions).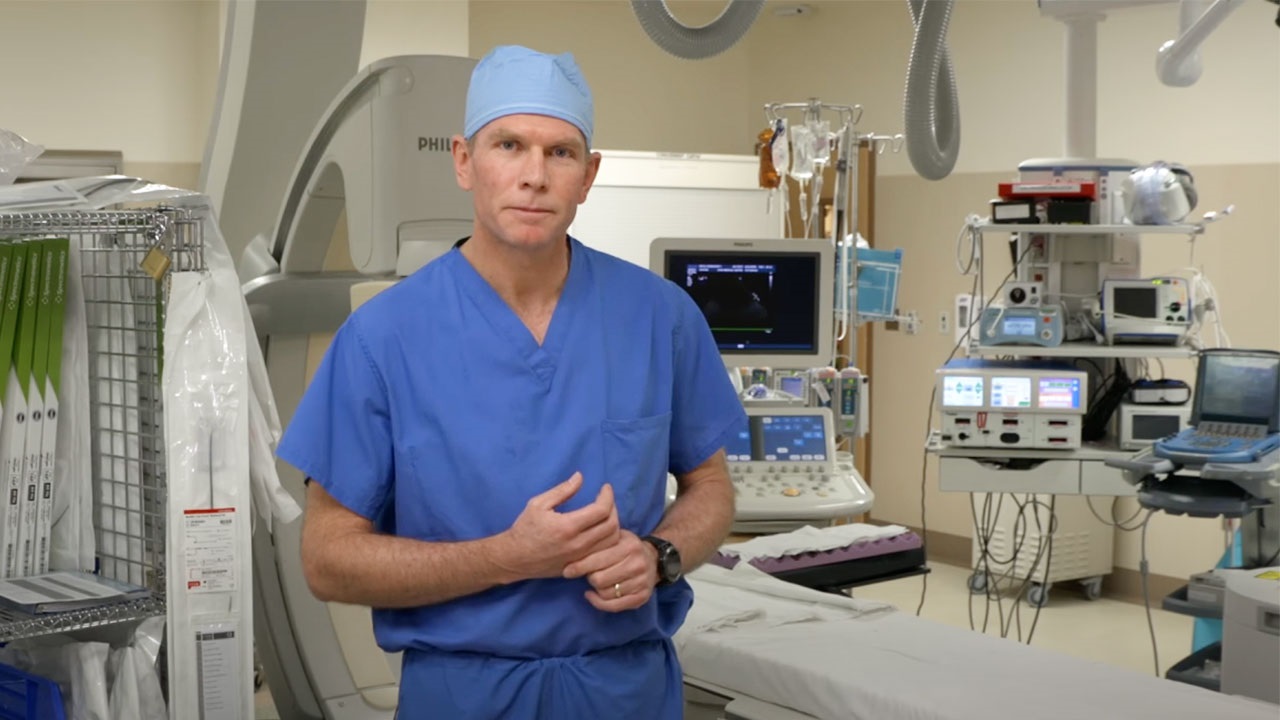 Advanced Cardiac Facilities
Dr. Victor Pretorius gives an overview of the hybrid operating room, where he performs laser lead extractions.
Cardiovascular Locations
See heart care locations conveniently located around San Diego County.