If you need surgery, turn to us for the latest treatment that's personalized to give you the best outcome.
UC San Diego Health's nationally recognized surgeons bring the most advanced care to patients every day. This includes awake brain surgery. heart-lung transplant, scarless appendectomy, and incision-less weight-loss surgery.
We're proud of the research breakthroughs we make in surgical medicine year after year because it means we're continually working to redefine the standard of care for our patients, our community and the world.
Among the Nation's Best
You have access to surgeons who use the latest technology and conduct groundbreaking research to improve patient care. Based on our patient outcomes and other factors, U.S. News & World Report ranks UC San Diego Health among the nation's best in these surgical specialties:
Cancer surgery
Ear, nose and throat (ENT) surgery
Gastrointestinal (GI) surgery
Gynecologic surgery
Heart surgery
Pulmonary and lung surgery
Neurosurgery
Urologic surgery
Inpatient vs. Outpatient Surgery
Our physicians, nurse practitioners, nurses and social workers pay attention to every detail — from your first consultative visit to hospitalization and postoperative follow-up care.
Depending on your procedure, medical condition and overall health, you may have:
Inpatient surgery services: Stay overnight after surgery at one of our medical centers for more observation and care.
Outpatient or same-day surgery services: Visit a UC San Diego Health location for surgery and return home the same day.
Surgical Expertise
You're in good hands with our expert surgical team. Choose UC San Diego Health for the following operations.
Minimally Invasive Surgery
Whenever possible, your care team uses minimally invasive techniques like robot-assisted surgery and advanced imaging techniques like fluorescence-guided surgery to reduce pain, scarring and recovery time and achieve better results.
Minimally invasive surgery involves fewer, smaller incisions than open surgery, and sometimes no incisions at all. Using specialized instruments such as tiny video cameras and digitally enhanced displays of the surgical area, your surgeon can achieve an even greater degree of precision for delicate procedures.
Though not all conditions can be treated through minimally invasive surgery, many surgical techniques now employ minimally invasive approaches. Here are some of the methods used by UC San Diego Health's surgeons.
Minimally Invasive Surgical Methods
---
---
Advanced Surgical Facilities
UC San Diego Health's world-class surgical facilities include operating rooms at UC San Diego Medical Center, Moores Cancer Center and Sulpizio Cardiovascular Center with the latest equipment. There are robots to help perform precise operations, audiovisual and endoscopic tools, and touch-screen displays that provide immediate access to medical records, vital signs and scans.
The Koman Family Outpatient Pavilion is home to eight surgery suites for outpatient procedures. Jacobs Medical Center has spaces dedicated to complex surgical procedures, including intraoperative MRI to remove tumors and lesions, heated intraperitoneal chemotherapy (HIPEC) for abdominal cancers, complex spine and joint reconstruction, and delicate microsurgery to restore voice and hearing.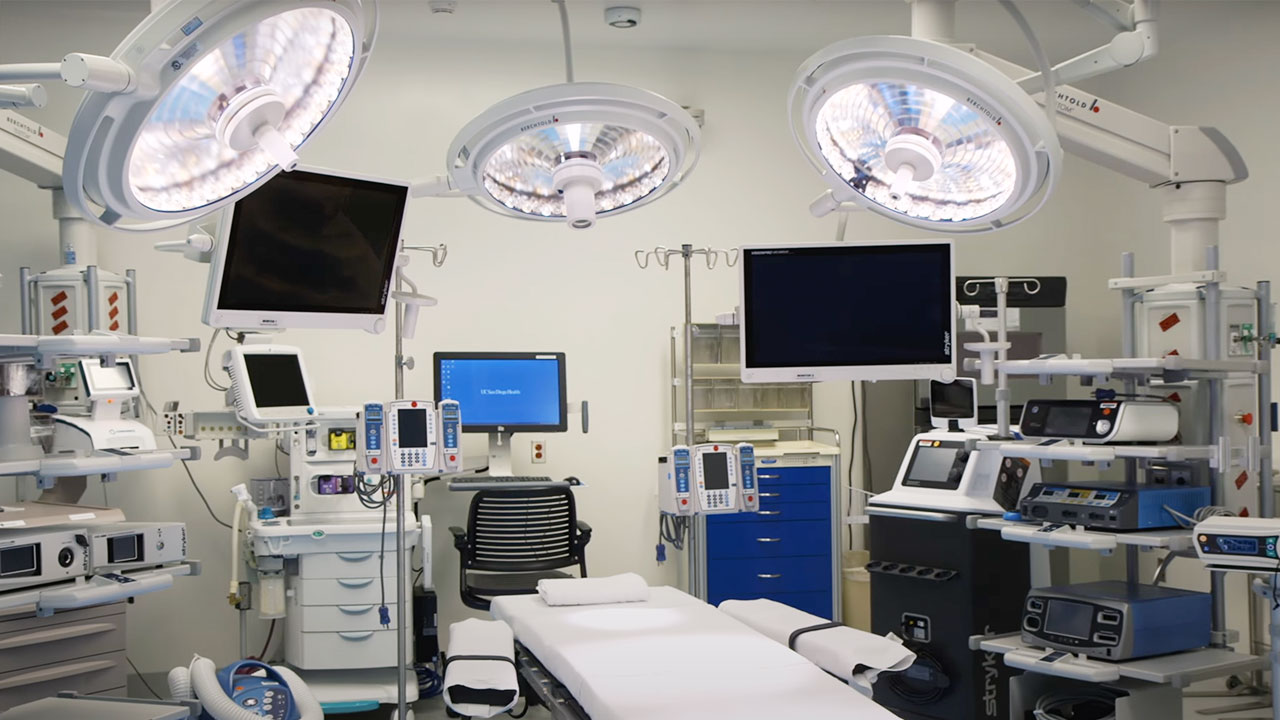 View Advanced Surgical Facilities
Take a video tour of advanced diagnostics, imaging and surgical technologies to personalize your treatment and speed recovery at Jacobs Medical Center.
Preparing for Surgery and Recovery
Learn how to prepare for surgery to help your UC San Diego Health surgical experience go smoothly.
Research and Clinical Trials
Our surgeons are well known for their research efforts that produce a steady stream of scientific knowledge and medical achievements. More importantly, our research from clinical trials is translated into new lifesaving surgical techniques, diagnostic tools and improved patient outcomes. We are redefining how surgery is performed.
Support Surgical Advances
With your help, the Department of Surgery at UC San Diego Health is changing lives by providing leading-edge surgical care to thousands of people every year.