Chief Experience Officer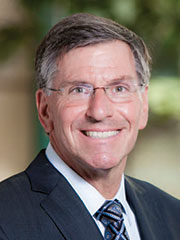 Dr. Thomas Savides is the chief experience officer (CXO) at UC San Diego Health. He is responsible for the strategy, leadership and implementation of the plan to improve the total health care experience of patients, families, providers and staff. In this role, Dr. Savides helps develop and lead a cultural transformation that results in new levels of patient care excellence that are grounded in innovative health care programs. He motivates and inspires all employees to continually strive for service excellence, while promoting a culture where patient service and satisfaction are top of mind and continuously improved.
In 1993, Dr. Savides joined the Division of Gastroenterology at UC San Diego School of Medicine and currently serves as professor of clinical medicine and vice chair of strategic affairs for the Department of Medicine. He is also Gastroenterology Clinical Services chief, and a member of the UC San Diego Medical Group Board of Governors.
Dr. Savides completed his internal medicine and gastroenterology training at UCLA Medical Center after receiving his medical degree from UC San Diego School of Medicine and undergraduate degree from Harvard College. His practice focuses on interventional GI endoscopy and endoscopic ultrasound. Dr. Savides has authored more than 175 publications including original research articles, invited reviews, books, chapters and videos. He has been a governing board member of the American Society for Gastrointestinal Endoscopy and president of the San Diego Gastroenterology Society.
For several years, he has been named a "Top Doc" in San Diego Magazine's "Physicians of Exceptional Excellence" annual survey performed in collaboration with the San Diego County Medical Society. He is a two-time recipient of UC San Diego Health's Physician of the Year Award, and also received UC San Diego Health Sciences' Faculty Award for Excellence in Clinical Care.
Dr. Savides was also named one of the nation's 30 "CXOs to know in 2018" by Becker's Hospital Review for transforming the health care delivery experience for patients, physicians and staff members.
When not at work, Dr. Savides enjoys spending time with his family and playing competitive tennis.